A quirky floral dress that works equally well for day or night, is irrefutably on-trend, and that clocks in at under $30? You had me at hello.
Throw in daring thigh-high splits, a comfy elasticised waist, and a retro 70s vibe that nails a key trend of the season, and we're looking at a bona fide wardrobe winner. H&M strikes again.
I love a versatile floaty dress – the sort come Saturday morning you can toss on and forget about. Successful weekend dressing, as I've written about here, is all about simplicity and ease. Who wants to wrestle with a pair of constricting bike pants or high-top undies to mask VPLs when they're bleary-eyed and un-caffeinated? Hitting up your local farmer's market or favourite café should be a carefree pleasure: your clothing shouldn't constrict you in any way at all.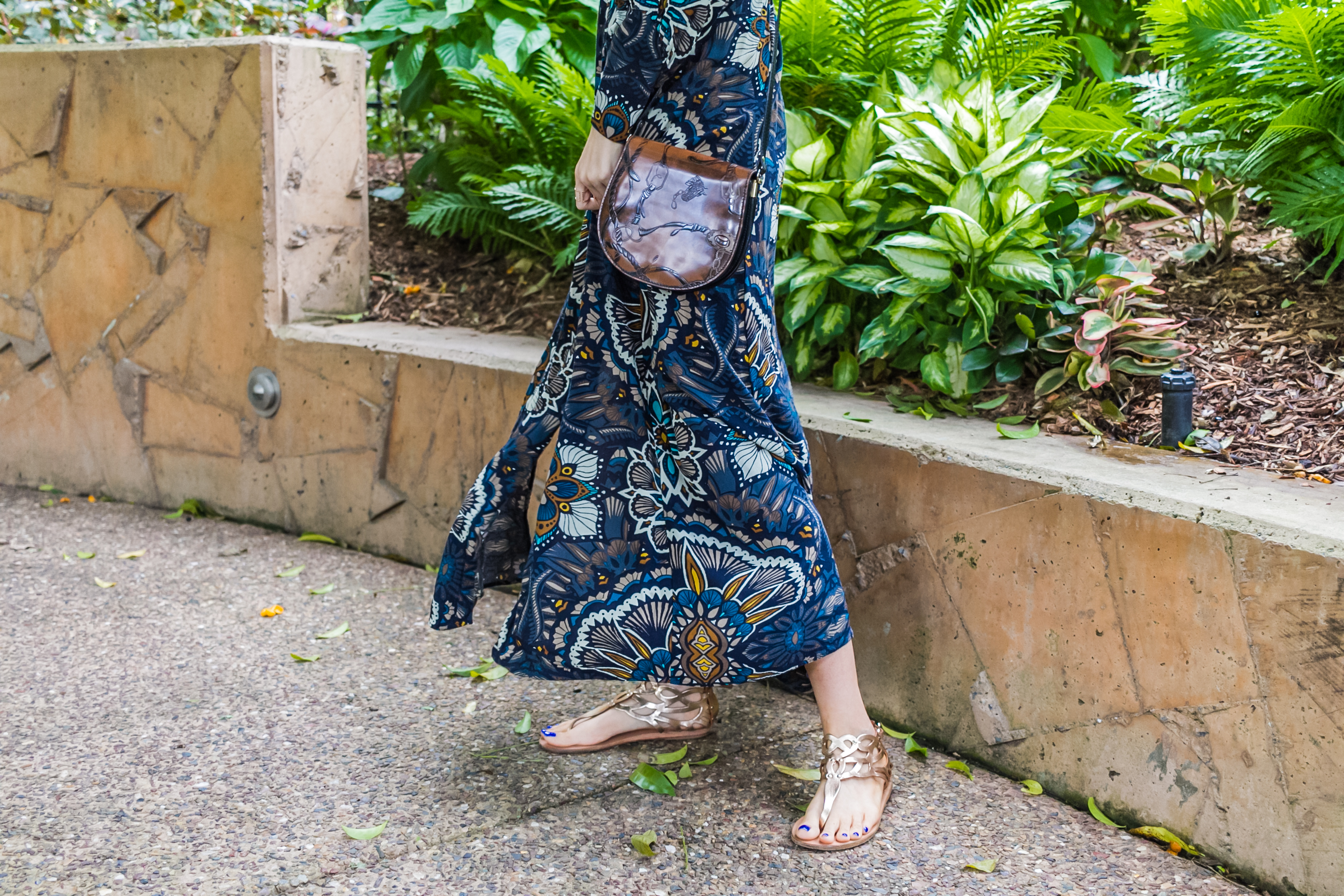 When it comes to evening cocktails, however, I toss practicality firmly out the window. I'm not seeking comfort – who do you take me for?! I'm looking to sizzle in white-hot style.
Thankfully, whether we're talking separates, a kimono or a relaxed suit, the principles of elevating a daytime look for evening remain exactly the same.
Here's how to style an on-trend floral dress for day and night.
Daytime:
1. Beautiful sandals
Tossing on a pair of flats with your new-season dress? Not all sandals were created equal. In terms of effort, it's no more strenuous to slide on beautiful, stylish sandals than it is to slip your feet into something ho-hum.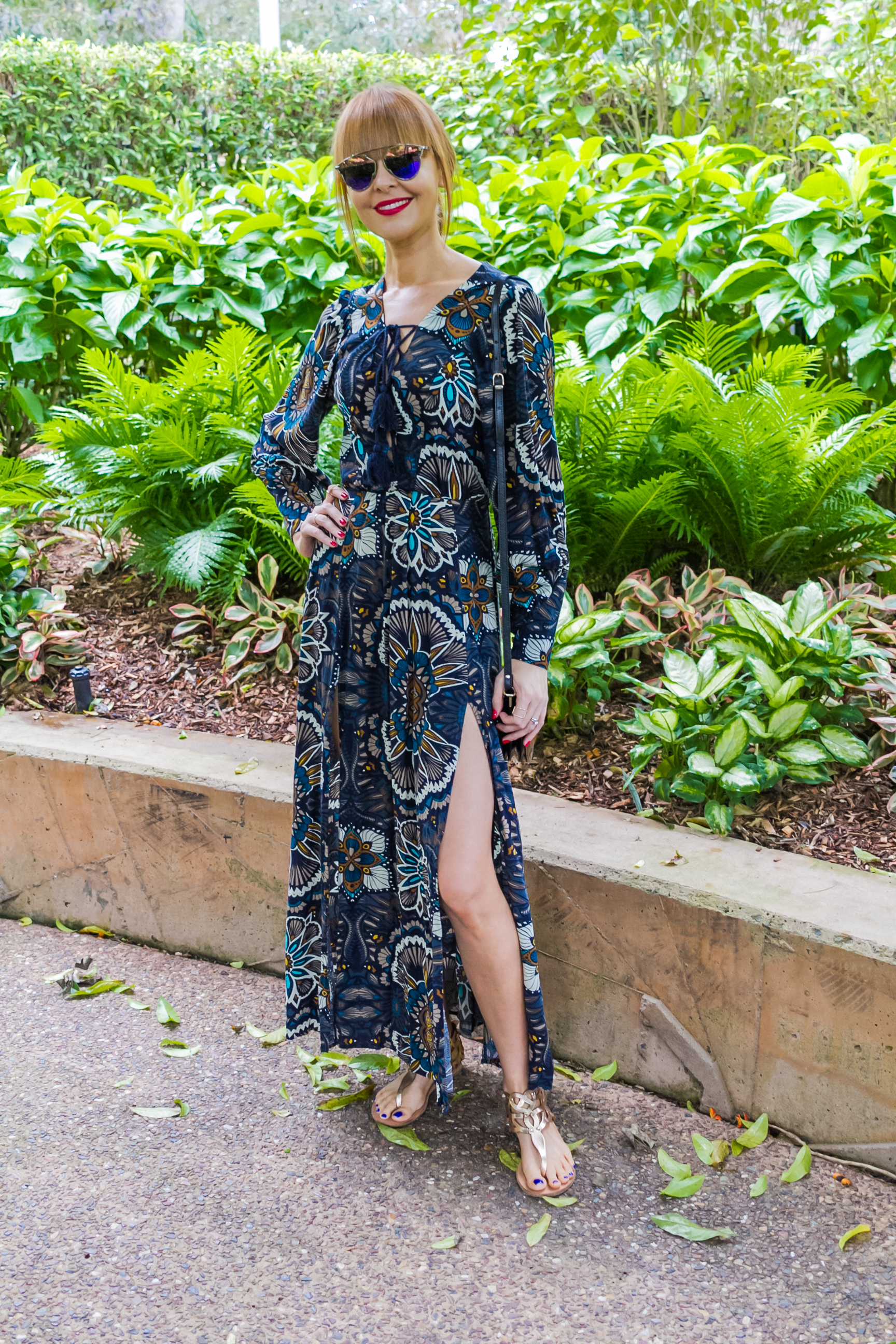 Before hitting the shops, I'd advise you to trawl sites like Net-a-Porter and Matchesfashion.com for inspiration. The intricate pair I'm wearing here is by Ancient Greek Sandals, who make their gorgeous shoes by hand in Greece. They go with absolutely everything – including this season's retro florals. Plus, I'm a sucker for rose gold.
Whichever sandals you decide on for your daytime look, ensure they're striking, unique – and most importantly, comfortable. Save those blisters for the dance floor.
2. Cross-body bag
This slim cross-body bag that I bought at the leather markets in Florence is one of my most useful purchases ever. Crafted from quality leather that's been embossed with equestrian motifs, it's simple and understated – yet it never fails to draw admiring remarks.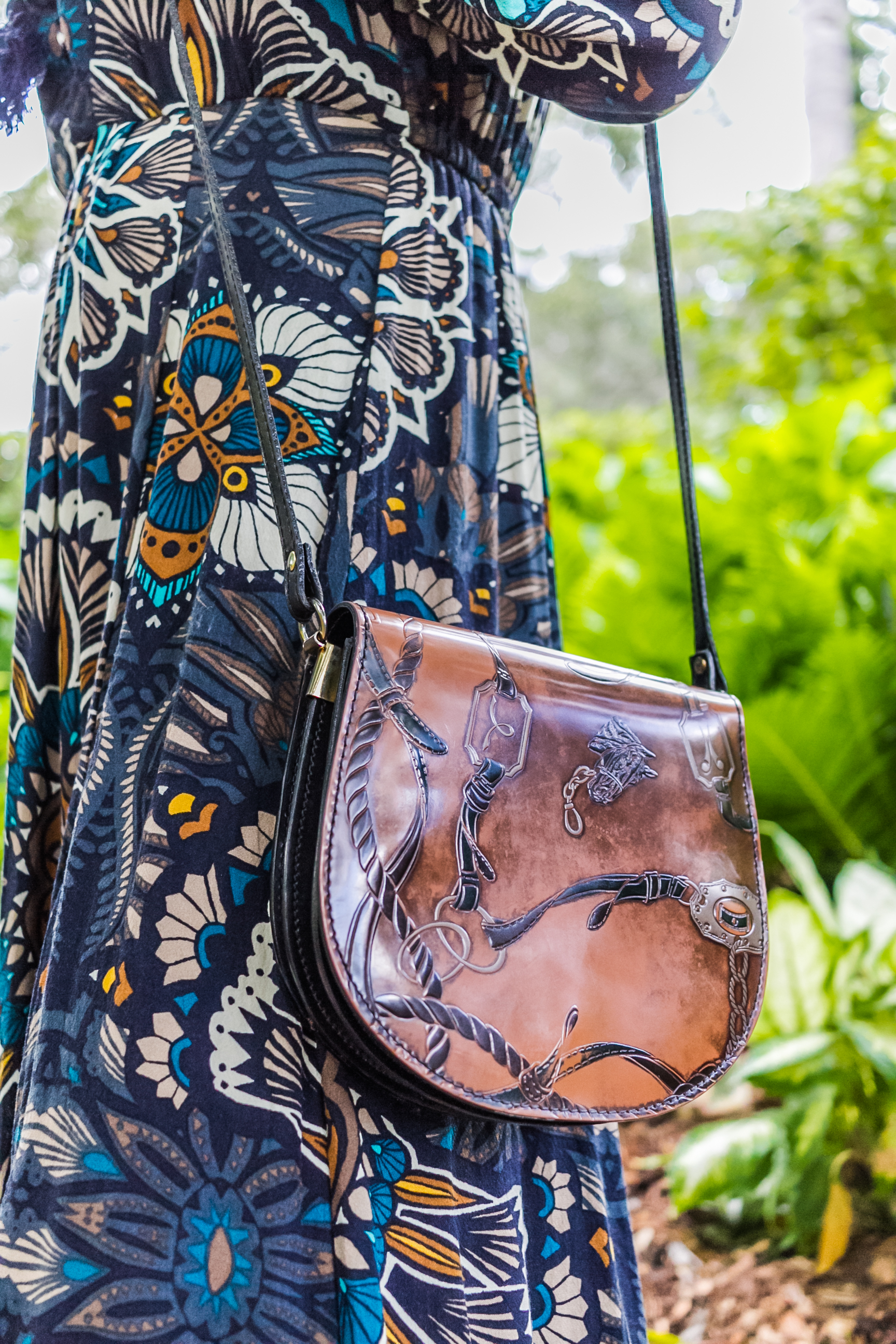 For daytime, a cross-body bag is a thing of joy: simply sling it on and waft about your day. If you're subsisting without one in your wardrobe, I'd suggest you hit the shops pronto. Opt for neutral hues like tan, white or black. And leave the credit card at home – there are plenty of good, cheap options from stores like Sportsgirl and Zara. This is one purchase that needn't break the bank.
3. Striking sunglasses
You know me: I'm a sucker for stunning eyewear. And as I've argued here, this is one area where it pays to invest. Killer sunnies are your best friends when it comes to effortless daytime style. They're also skilled at masking hangovers, blotchy skin and Resting Bitch Face.
In some cases, they can even redeem a bad hair day.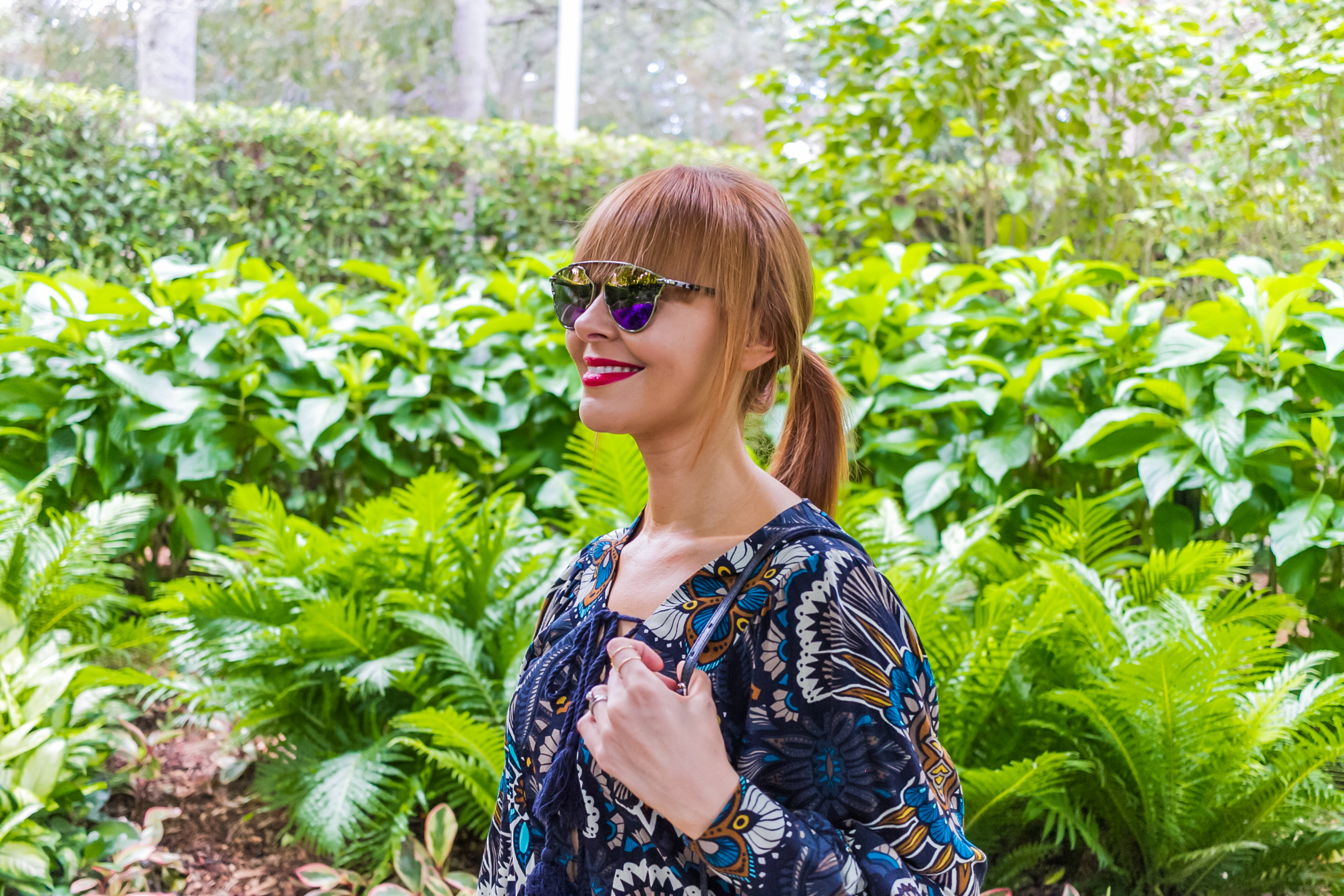 See how happy I look in this photo? It's all down to Dior. These sunglasses, while staggeringly expensive, have been uplifting me since the moment I slipped them on in the Dior boutique in Paris' majestic department store, Le Bon Marche.
Sandals, a cross-body bag and brilliant sunnies? Sounds to me like you're ready for a smashing Saturday.
Evening:
 1. Statement jewellery
Seeking to transform a floaty day dress into a stunning evening look? Statement jewellery is reliably excellent in this department. Here, I've kept it simple with tactile gold drop earrings by Parisian brand Cécile Jeanne.
When it comes to earrings, I'm a firm believer that it's best to go big or go home.
Save those demure studs for day: this season, it's all about shoulder-grazing tassels, oversized sculptural pieces and danglers in blazing colour for evening. Every girl needs at least two pairs of statement earrings in her accessories drawer: one in a versatile metal, one so outlandish and brazen that they elevate your look in nanoseconds flat. Find yourself drawing envious glances thanks to the audacity of your jewellery? Allow me to high five you.
2. Killer heels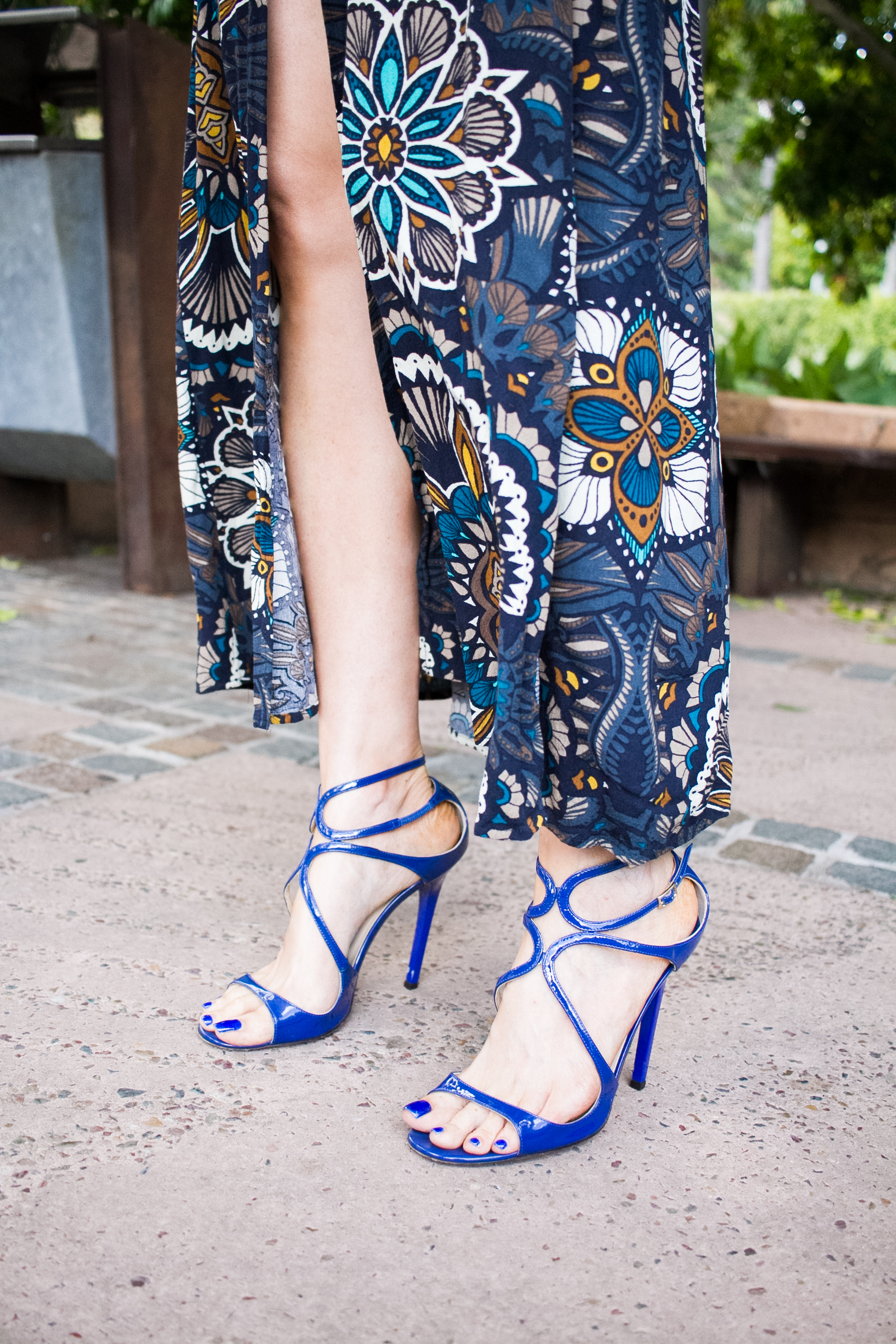 Jimmy Choo, I salute you. These patent blue stunners were the first designer high-heeled sandals I ever purchased, and in terms of ROI they have well and truly paid for themselves. Undeniably flattering and (very nearly!) comfortable, they update a day dress for evening with matchless ease.
If your wardrobe is lacking a pair of knockout heeled sandals, I'd advise you to have a stern word in Santa's ear. It pays to be firm.
3. Embellished bag
I love nothing more than picking up unique pieces on my travels, and this exquisite handmade bag set my heart ablaze the moment I clapped eyes on it in a Dubai souk. I regret not buying one in every colour.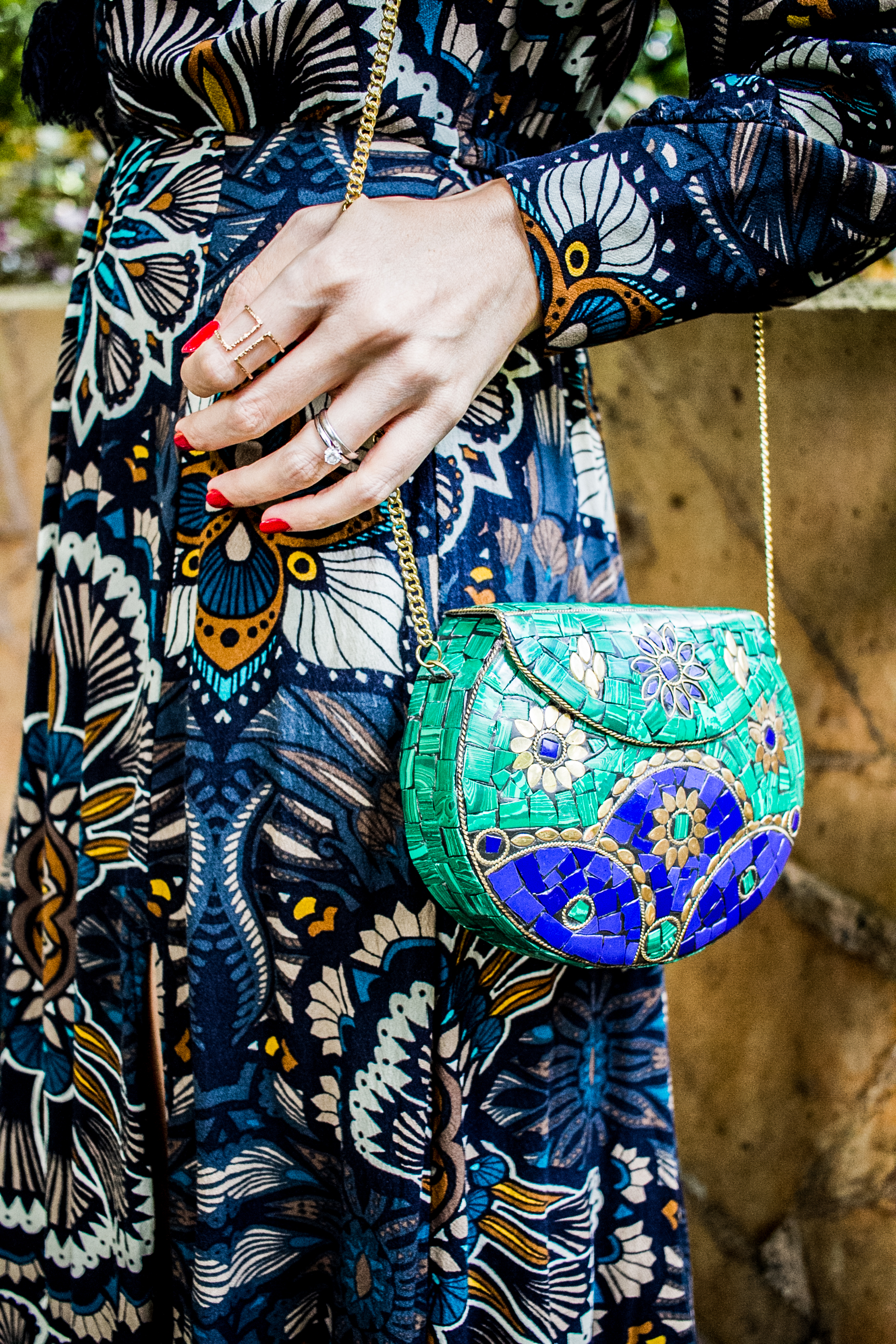 Built for stylish cocktails with your nearest and dearest, an embellished bag is an asset when it comes to elevating daytime ensembles for evening. Look for quality fixtures and a colour palette that extends the usual neutrals into chic new territory. This cobalt, emerald and gold number goes with an astonishing array of outfits, and it always feels elegantly unexpected.
Which might just be my new style motto.
Well friends, it's time for me to go and pack for a sneaky midweek trip to Noosa – K and I are heading there tomorrow for our eight-year wedding anniversary! Time flies when you're having fun. 🙂
See you next Sunday – same time, same place.
Antonia xo
PHOTOGRAPHY – Sharleen Christie
DRESS – H&M
SANDALS – Ancient Greek Sandals
SUNGLASSES – Dior
HEELS – Jimmy Choo
EARRINGS – Cecile Jeanne
RINGS – Gag & Lou