Friends, it's been an age since I last posted – but my life-draining PhD is finally finished (hoorah!!) and I have only just come up for air. I promise never to leave you for so long again.
K and I just returned from two glorious weeks in Bali, a tropical paradise I'm ashamed to admit we had never visited before. When we told friends and family that we were planning a trip to Bali to celebrate the submission of my PhD, the response was unanimous. "I just can't see you guys there," people said. "Isn't it time for another Paris jaunt?"
These comments amused and delighted us. We viewed them as backhanded compliments, assurances that we were anti-bogans – stylish souls who belong in the City of Light (which of course we do).
The unambiguous message we received from our inner circle was this: K and I would stand out on Kuta Beach like a pair of gangrenous thumbs.
Of course, we never set foot in Kuta – Luxe City Guides sensibly advise to avoid Kuta as you would a date with Donald Trump. But we did spend a good amount of time in Seminyak, Ubud and a slice of island loveliness called Nusa Lembongan – and there was nary a bogan to be seen anywhere. I certainly didn't see this guy.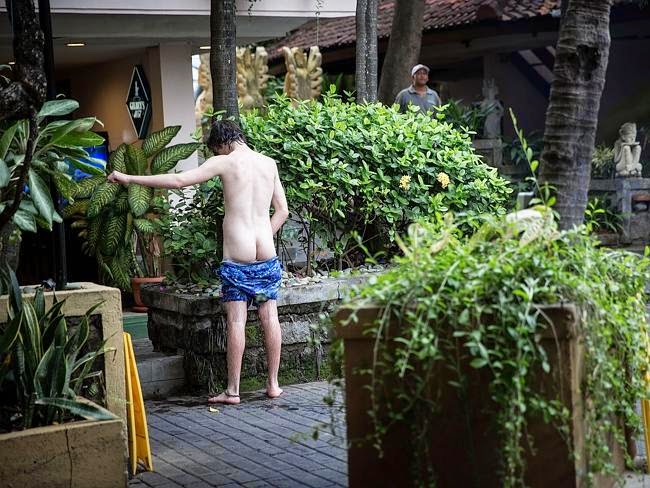 For those who haven't visited, I'm reporting from the frontline to assure you that Bali is unconditionally wonderful. Take my word for it: being a Francophile and falling for this steamy Indonesian isle can absolutely go hand-in-hand.
Today, I'm itching to share with you the brilliant dining and bar scene K and I relished in Seminyak – Part 1. Am I an expert? Hardly. But I do know a sublime poke bowl, rosella cocktail or melting chicken satay skewer when I come across one.
I'm a girl who knows what she likes.
Here's the details of my perfect Seminyak day, from breakfast through to sunset drinks and dinner. Keep an eye out for more Bali posts in the coming weeks.
EAT:
Ku De Ta (Breakfast)
This happening beach club isn't a secret by any means, but it is an excellent place to start your day. Arrive around 9.30 a.m. to nab one of the oceanfront tables, and to revel in the relaxed vibe before the place packs out for lunch.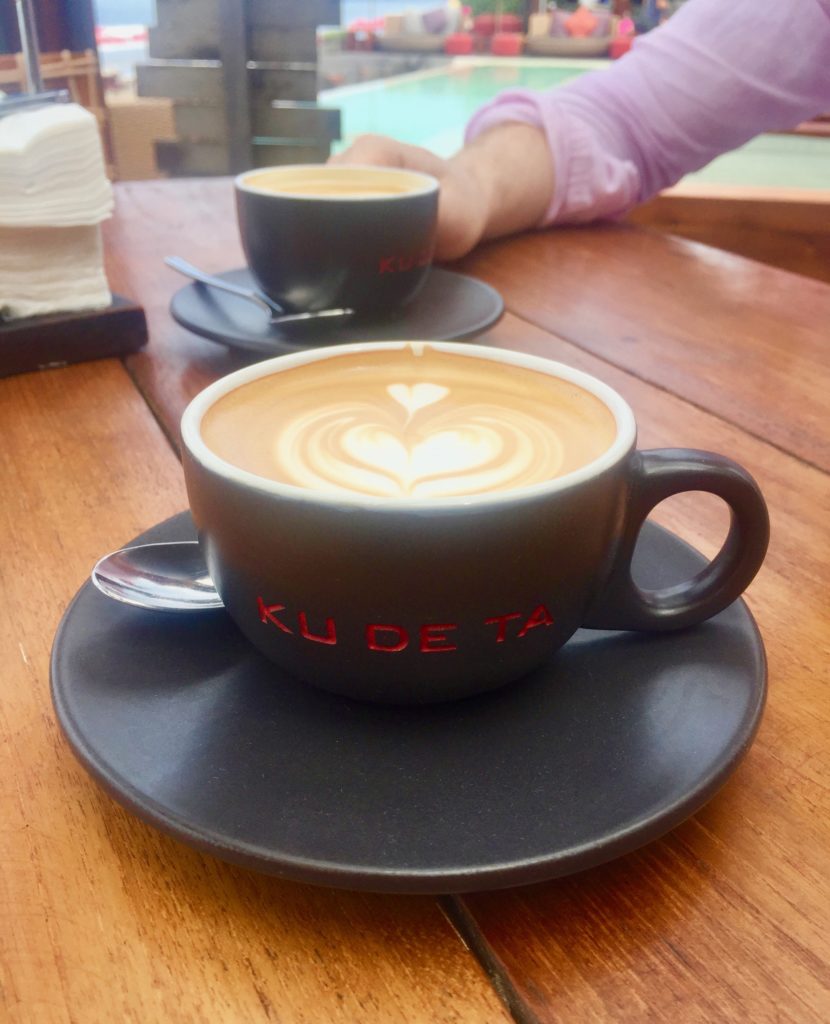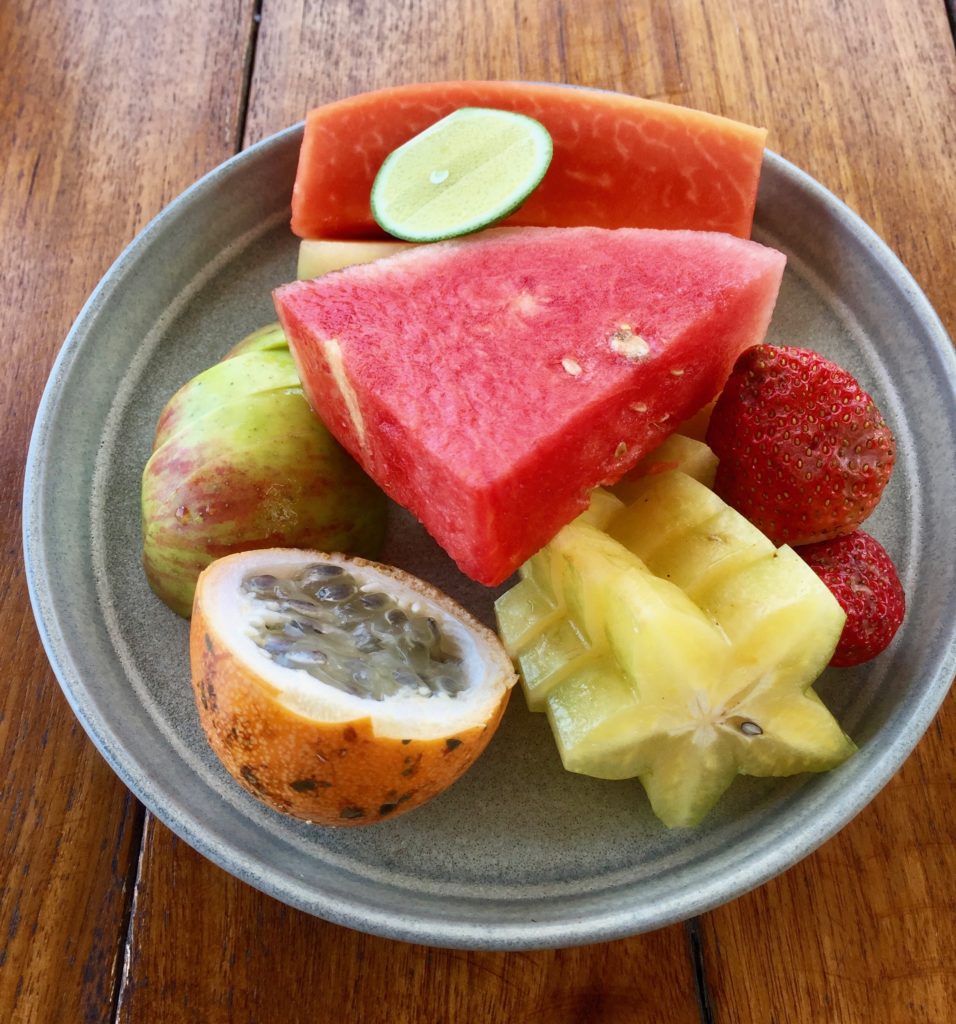 I'd heartily advise you to order the set breakfast, which includes a coffee (Balinese coffee is what can only be described as average, but here the flat whites are hot and strong), a freshly-squeezed juice, an Instagram-worthy tropical fruit plate, and eggs cooked to your liking with a trio of sides. A steal at around 15 Australian dollars – though don't forget to factor in the additional 18% service and tax.
Then gaze out at the surf while the wind grazes your cheek, content in the knowledge that a stroll of a few metres will deliver you to one of the scenic poolside sun loungers. The ideal place to laze away the rest of the morning with a good book.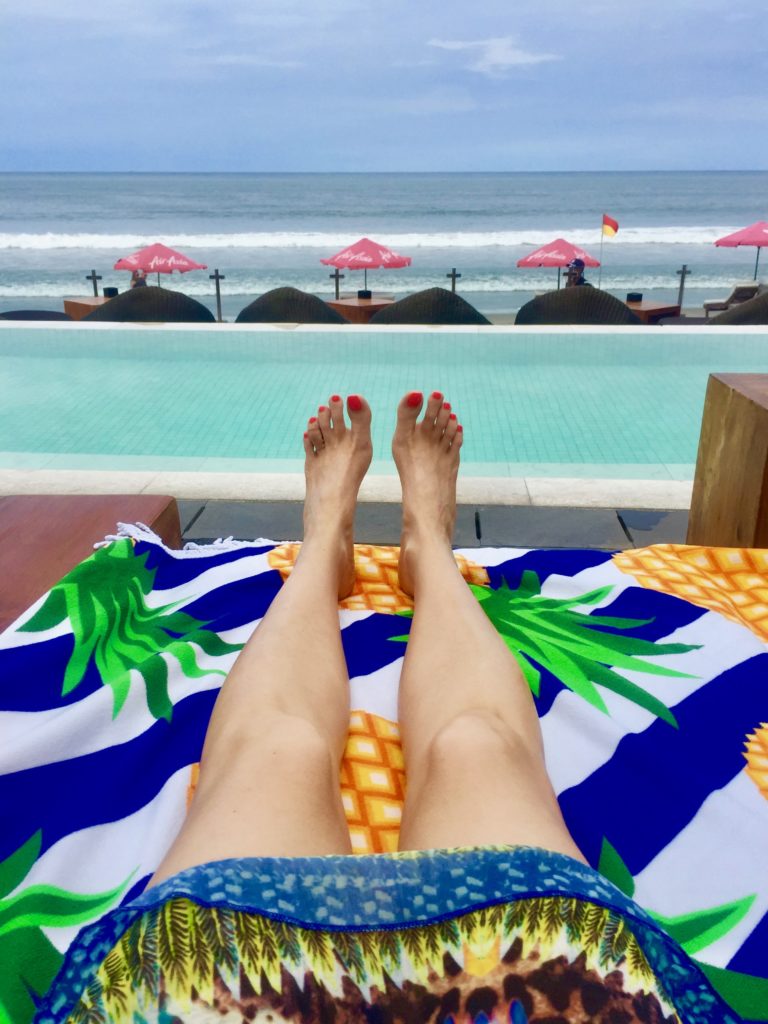 Sea Circus (Lunch)
Are you hungry come lunchtime? Not a bit. But there's always room for the nourishing goodness of a tuna poke bowl in a cute café. This dish was so delicious and sparklingly fresh it has lodged itself permanently in my taste memory. It was so good, tragically, that I forgot to take a photo. Here's a wee one I found online instead.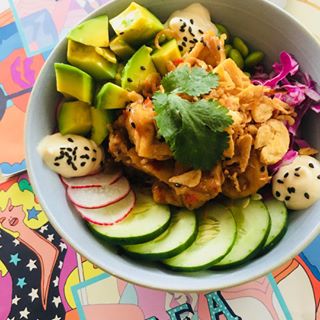 That's right: a bounty of diced sashimi-grade tuna atop a bowl of quinoa, avocado, edamame, radish and cucumber, with a yummy wasabi mayo to bind it all together. Heaven – and a bargain at $11.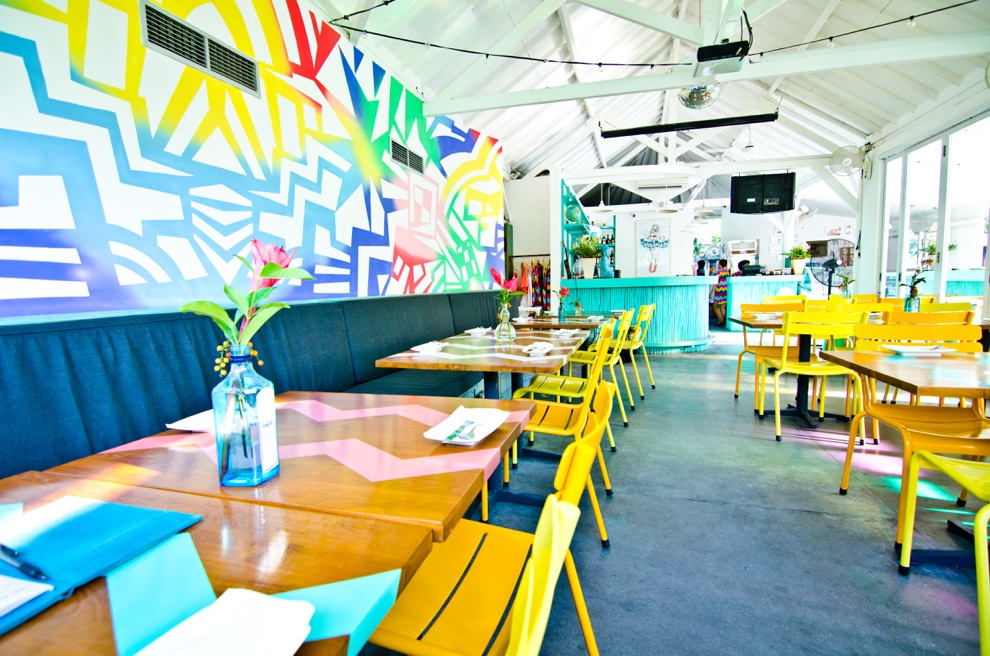 Pull up a pew at the front bench on the windows, where you're in prime position to watch the comical comings and goings of scooters parking across the street, overseen by a kind, sweating man dressed all in black. Afterwards, don't forget to grab a photo against the colourful outside mural – though try to refrain from posting it to social media.
That criminally good-looking Brazilian couple already beat you to the punch.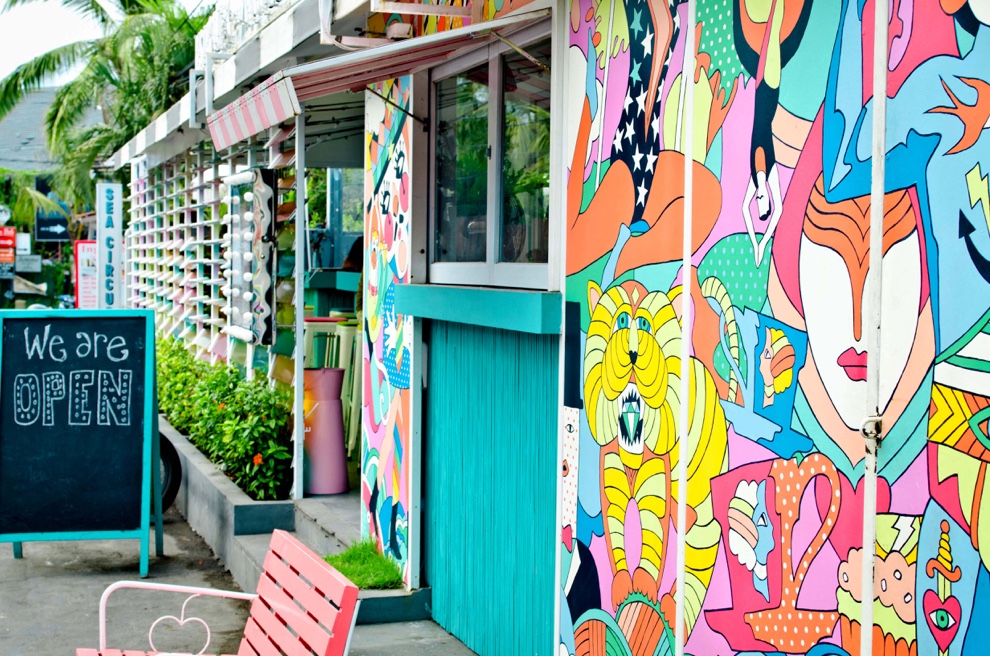 Gapet (Dinner)
Alright, it's time for some kick-ass Balinese food at Gapet – a casual kiosk or warung that specialises in duck and chicken. As a foodie, when I come across a place that focuses on only one or two things, my pulse quickens: there's every chance those dishes are going to be exceptional.
As they were at Gapet. The night we dined here was so sweltering that K and I bypassed the lantern-lit courtyard and opted to sit inside in the life-giving air-con. Within minutes the friendly young waitress had delivered tasty onion crackers and a plate of different sambals (hot sauces) for us to sample, so we'd know which one to order with our main course.
Isn't great dining all about the little things?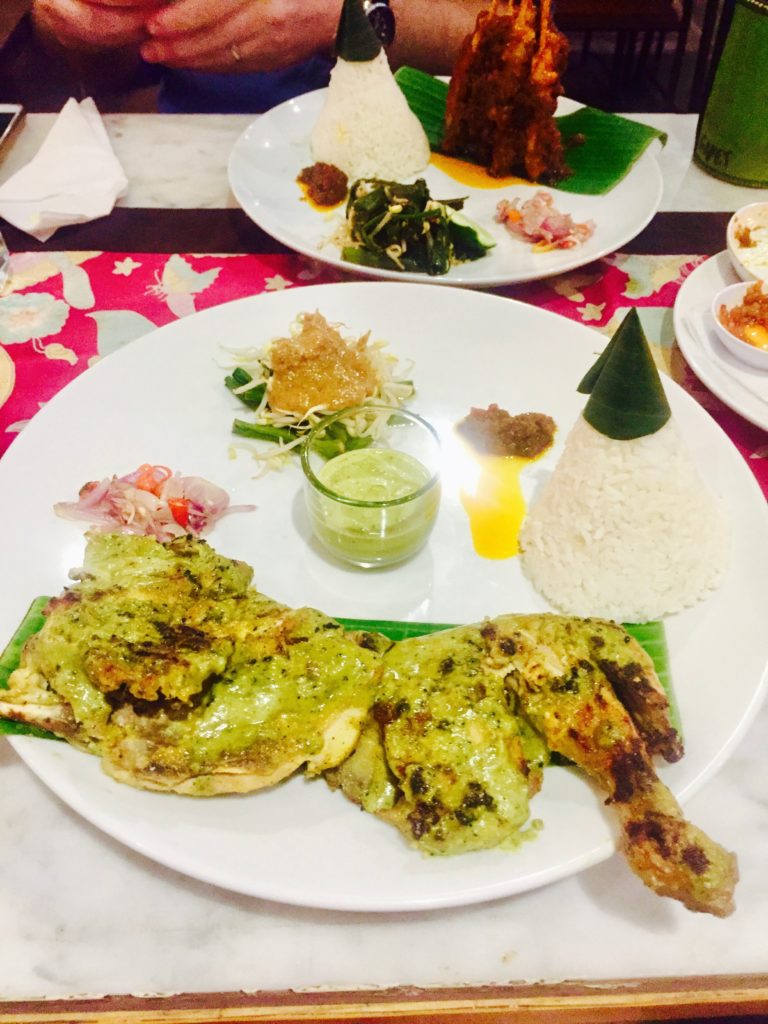 K ordered the chicken satay skewers with the 'bumbu' sambal – a combo of ingredients including herbs, lemongrass, turmeric and coconut milk – and the dish was a triumph. The chicken was ludicrously moist, the sauce moreish and the rice served Balinese-style in a cone topped with a banana leaf. I chose Gapet's signature dish, the herbal karee roasted chicken. It was bountiful and yummy, though K's dish took out the trophy.
We ate like kings, shared three beers between us, and the total bill was $21. Make a beeline for this place. You won't regret it.
DRINK:
Potato Head Beach Club
It's hard to beat sunset drinks at Potato Head. In the day, it's a sprawling beach club with a lot of dirt (during daylight hours I'd choose Ku De Ta for sure). But come dusk the place transforms into a stunning and atmospheric venue. Lanterns, candles, hammocks, the gentle swaying of spotlit palm trees… Every vista is crying out for an Instastory.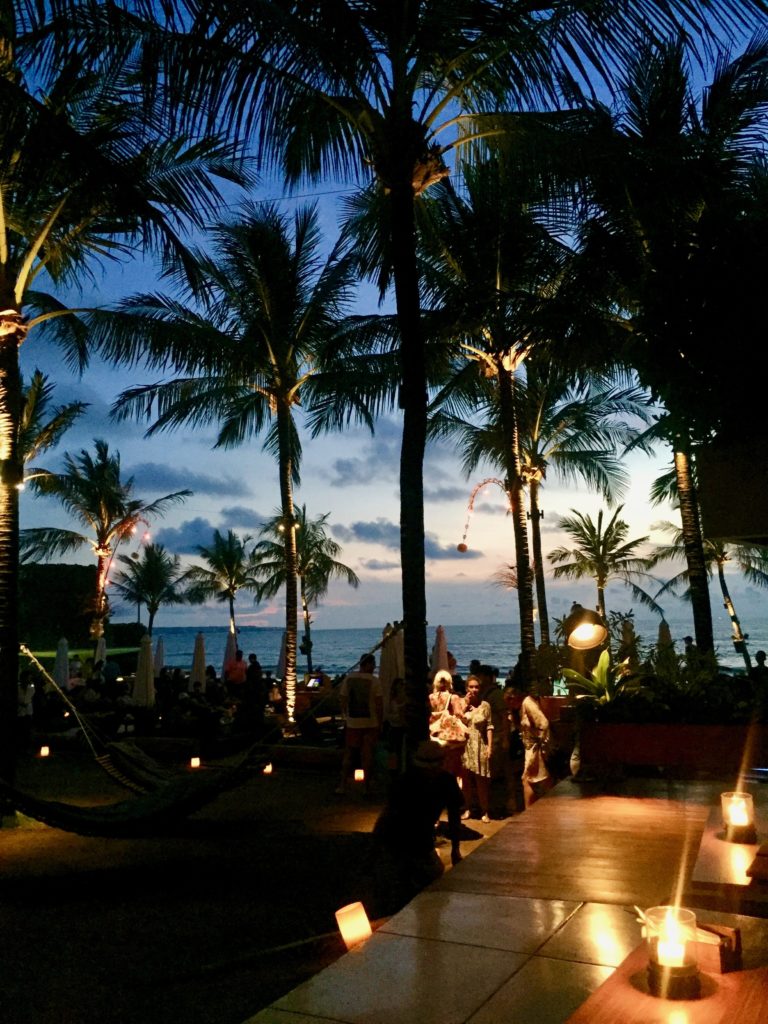 In fact, the place is so darn picturesque it's difficult not to become frantic trying to capture it.
Drag yourself away from your phone long enough to order a cocktail. I suggest paying close attention to the special of the week. When we visited it was a stellar concoction of rosella syrup, pomello, vodka, and a blend of citrus. Beguiling, balanced and strong. What more could you want in a drink?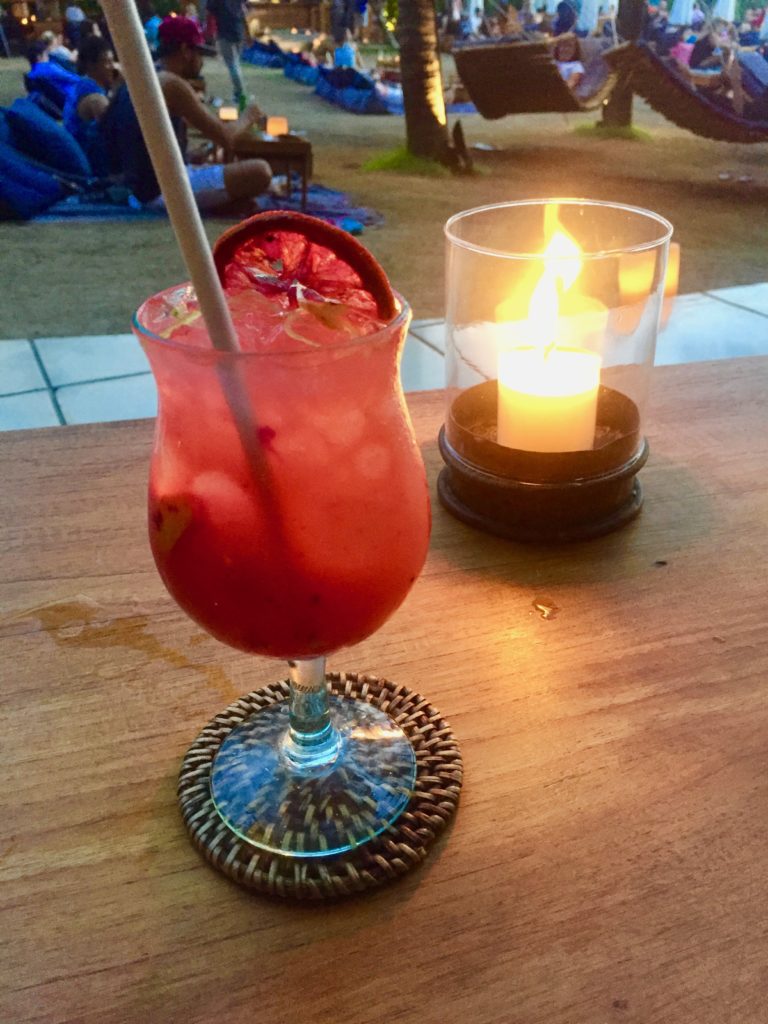 Just before sunset, dash up to the front deck and stake out a square metre of prime real estate. The spectacular glowing orb melting into shades of lavender and pink won't disappoint. Then settle in for an hour or two and soak up the glamorous beachy vibe.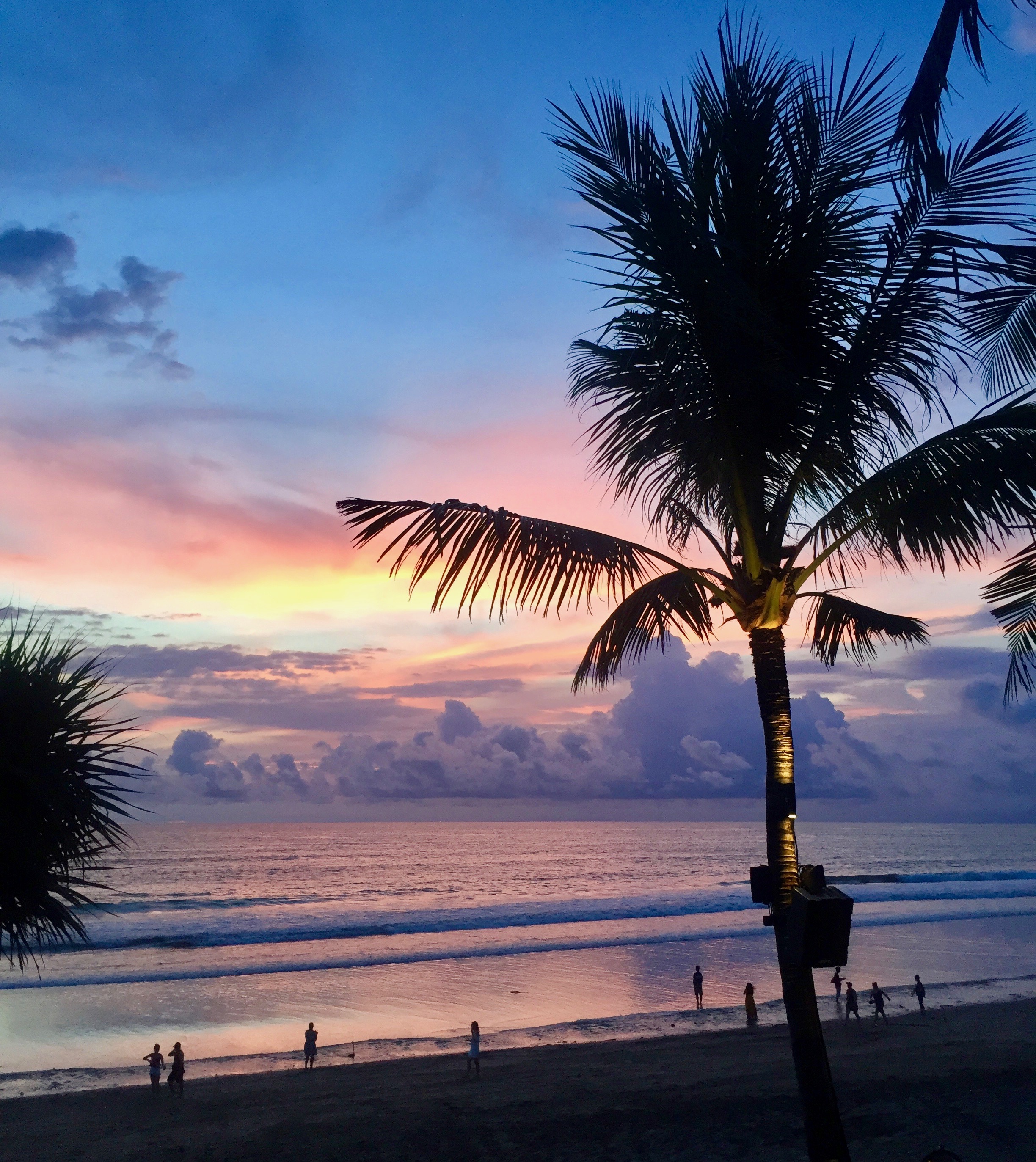 Wherever there's an ice cold, dirt-cheap Bintang
That's not actually the name of a bar. That's my advice to you.
Before we landed in Bali, I hadn't even looked at a beer in over 10 years. I used to drink beer back when I was studying acting in my late teens – VB, unfortunately – but I was certain I'd evolved out of the habit. I'm a champagne girl, when finances allow, and a devotee of silky pinot noir.
Bali changed my mind. I finally latched on to what the average Aussie punter has known since the dawn of time:
A beer on a steaming hot day is as refreshing as fuck.
Make a game of it: go in search of the coldest, cheapest Bingers (as K and I affectionately dubbed them) you can find. I'm talking freezer cold, where you can draw a smiley face on the glass, as our charming waitress did at Gapet. Stubbie holders are non-negotiable – the weather's so steamy that without them that bracing beer will warm up before your very eyes.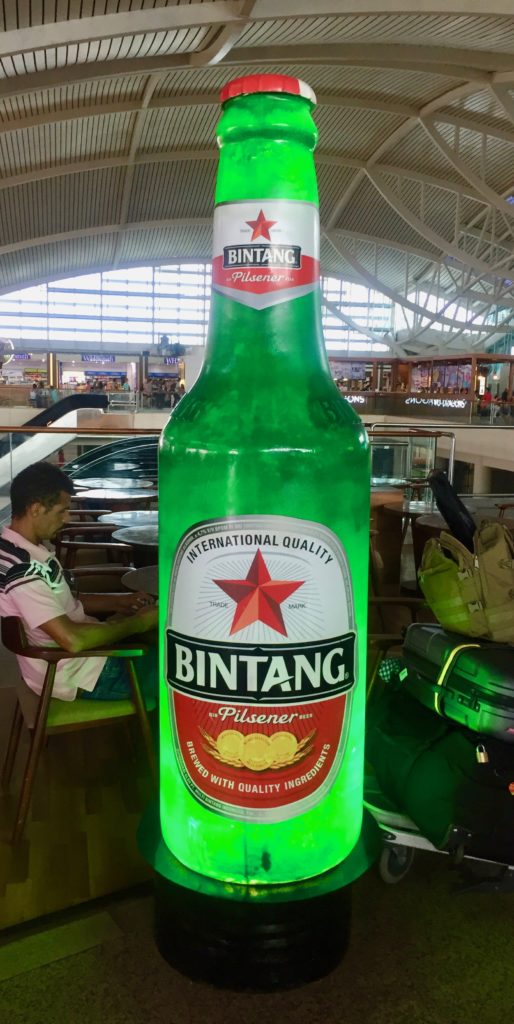 As for price? $2.50 to $3 will do nicely thank you, though you can find them for around $1.90 in the supermarket.
Just writing this is making me thirsty for an icy-cold Binger. Maybe I'm a bogan after all. 🙂
xo
Featured Image via – The Bali Bible