I'm delighted to be flying south tomorrow for Melbourne Fashion Week, where in defiance of the torrential rain and frigid weather forecast, spring fashions will storm the runway. Oh, the joy of a new season—the sense of renewal and rebirth! I love nothing better than taking to the streets to see how the style set are interpreting the latest trends in real life. At Stockholm Fashion Week, saturated peacock shades were the order of the day.
And millennial pink was absolutely everywhere.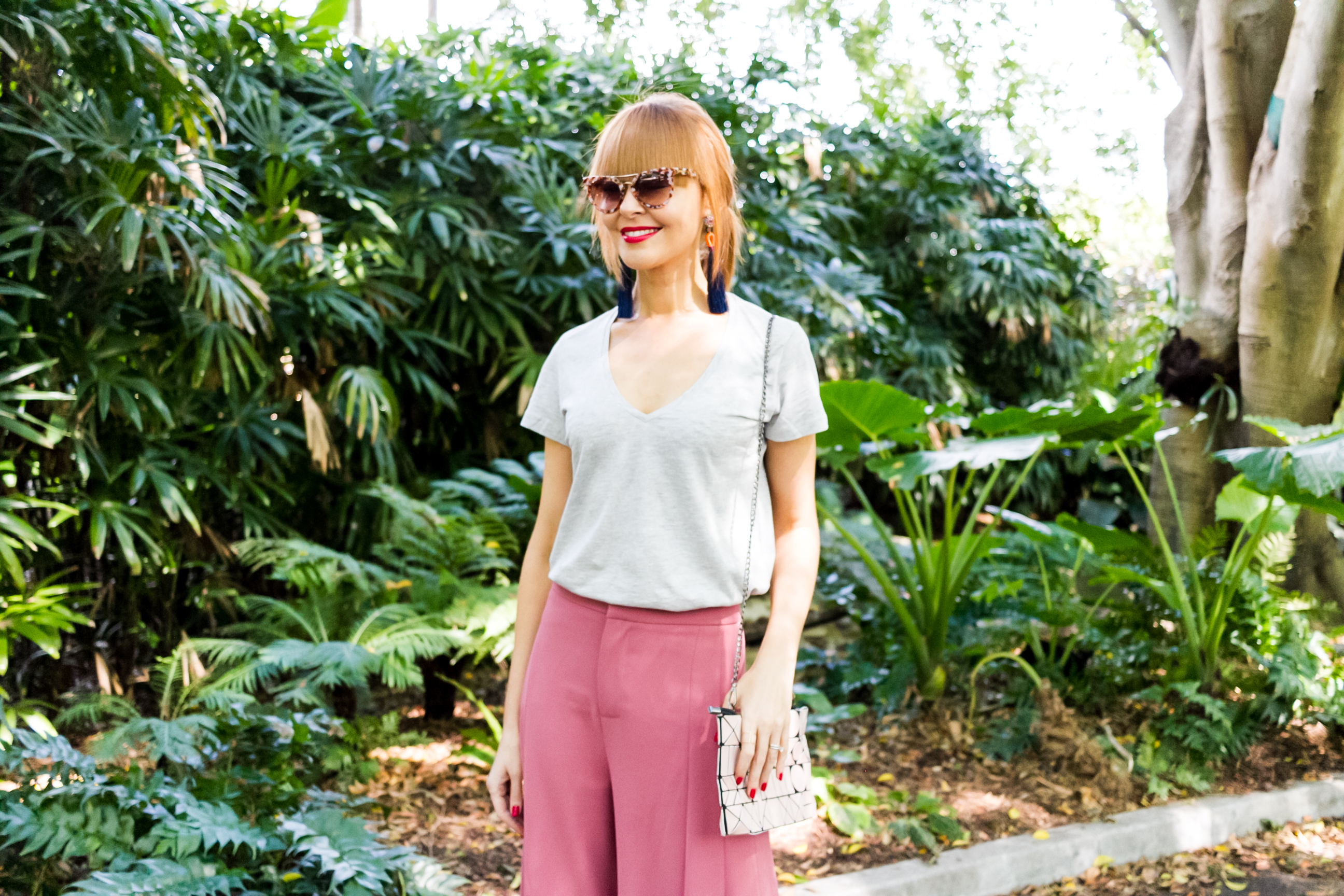 Candy, rose, salmon: however you care to define it (here's the thing—no one can quite agree on the exact shade), millennial pink is more than just a colour. It's a movement, a cultural phenomenon. Somehow, in the process of conquering the worlds of fashion, homewares and interiors, millennial pink has captured the zeitgeist of an entire generation. According to The Guardian, "the colour of now" is "a way to be pretty while retaining your intellectual detachment."
Sound appealing? Here are my tips for how to wear the year's hottest shade: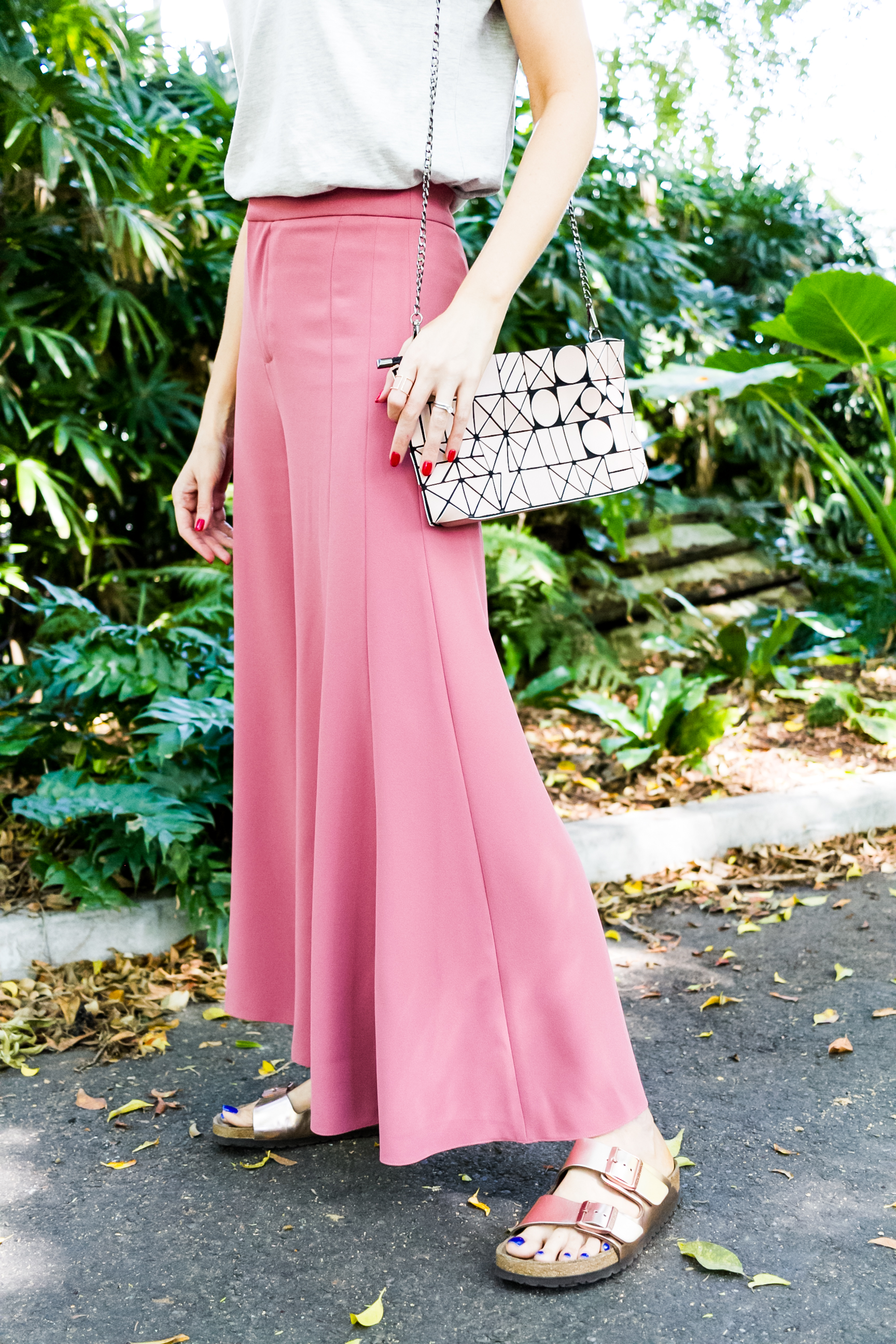 Start small
If you follow The Dressed Fork, you'll know that I'm all about styling exuberant trends such as wide leg pants, brights or statement accessories in such a way that they compliment your existing style rather than overwhelm it.
The same principle applies when building an outfit around millennial pink.
Start small with a bag or sunglasses, or a fun candy-coloured slide (bonus points if they're lined with faux fur).
These pink flares from Zara are a tad more adventurous, but they manage to look elegant rather than kooky thanks to their streamlined cut. The simple tee and Birkenstocks ground the look for daytime. Perfect for a lazy weekend brunch or hitting up your local farmer's market.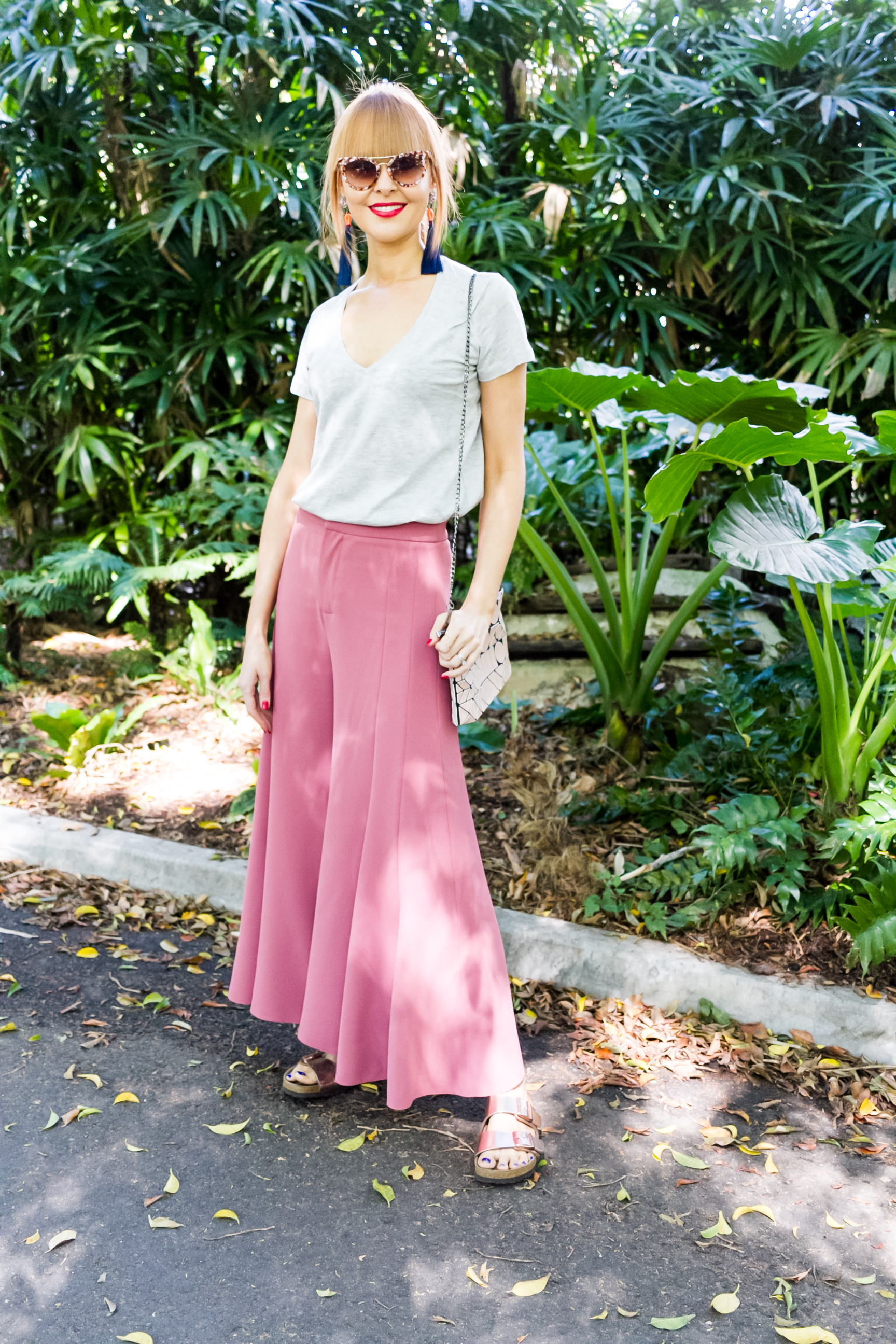 Combine shades
In this outfit, I've sneakily combined four different shades of millennial pink. Worn together, the candy pants, rose gold sandals, blush-coloured bag and dusky speckled sunglasses add interest to this otherwise casual look.
Subtle, yet on point.
Pink isn't really your thing? Experiment with understated shades of salmon and shell. Feeling frisky? Go all out with candy-coloured suiting or a floaty unstructured dress. Just remember to layer two or three shades for maximum impact. And yes, your coffee cup and phone case count.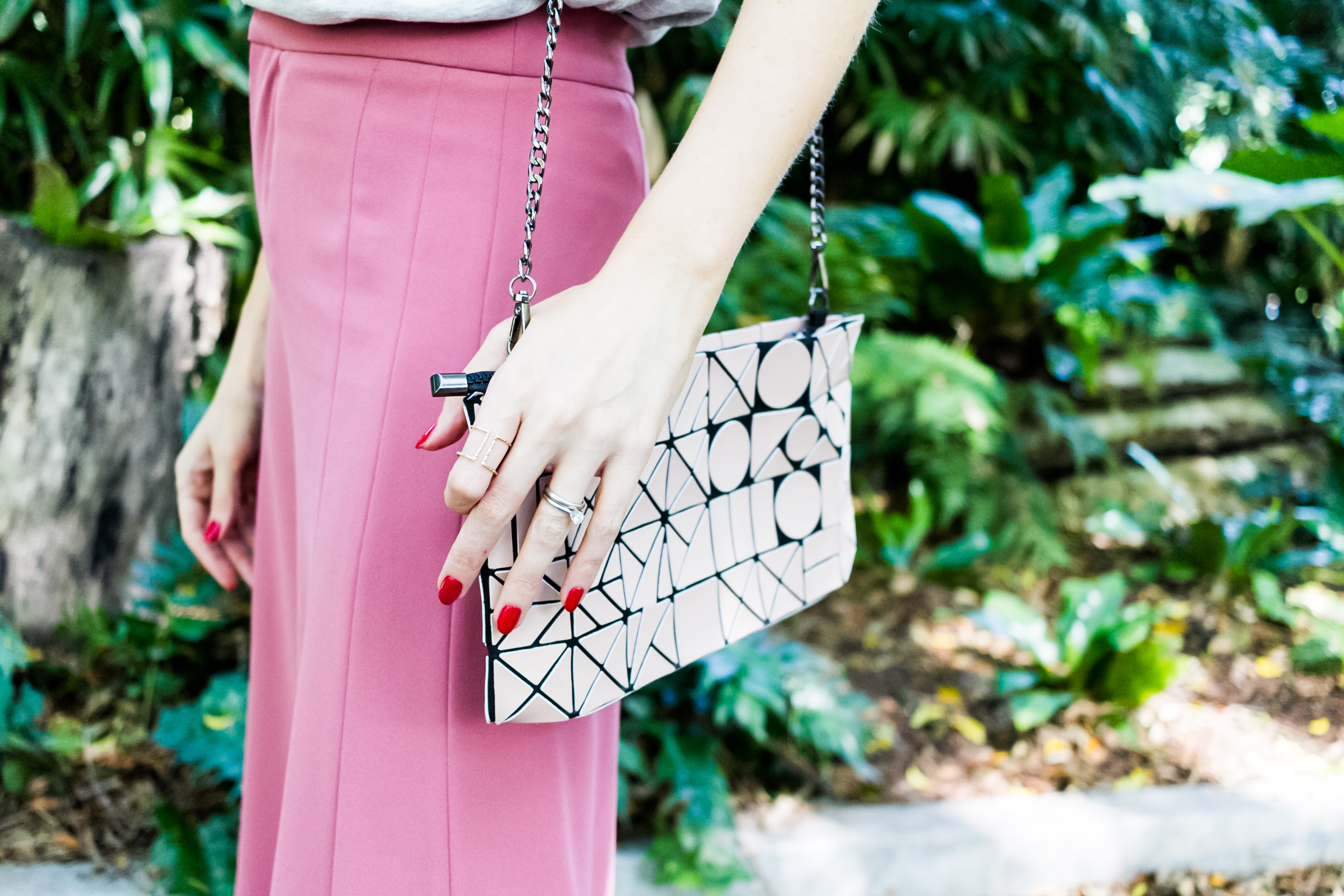 Pair it back with neutrals
I harp on about this simple style hack for a reason. Classic neutral pieces are your best friends when it comes to incorporating the latest trends into your wardrobe, because they work with everything.
Half of my closet is filled with neutral-hued basics: white and grey t-shirts and tank tops, an assortment of jeans, jackets and trenches in beige, khaki and black. The other half is so colourful and exotic it looks as if a pair of parrots flew into my wardrobe and collided in mid-air.
Build up your collection of flattering neutral basics first.
This grey t-shirt from Zara is a wardrobe staple and the perfect foil to these daring millennial pink pants. The same goes for these rose gold Birkenstocks. They go with absolutely everything, and they're the most comfortable shoe you could ever have the pleasure of wearing. More comfortable than bare feet, if that's even possible.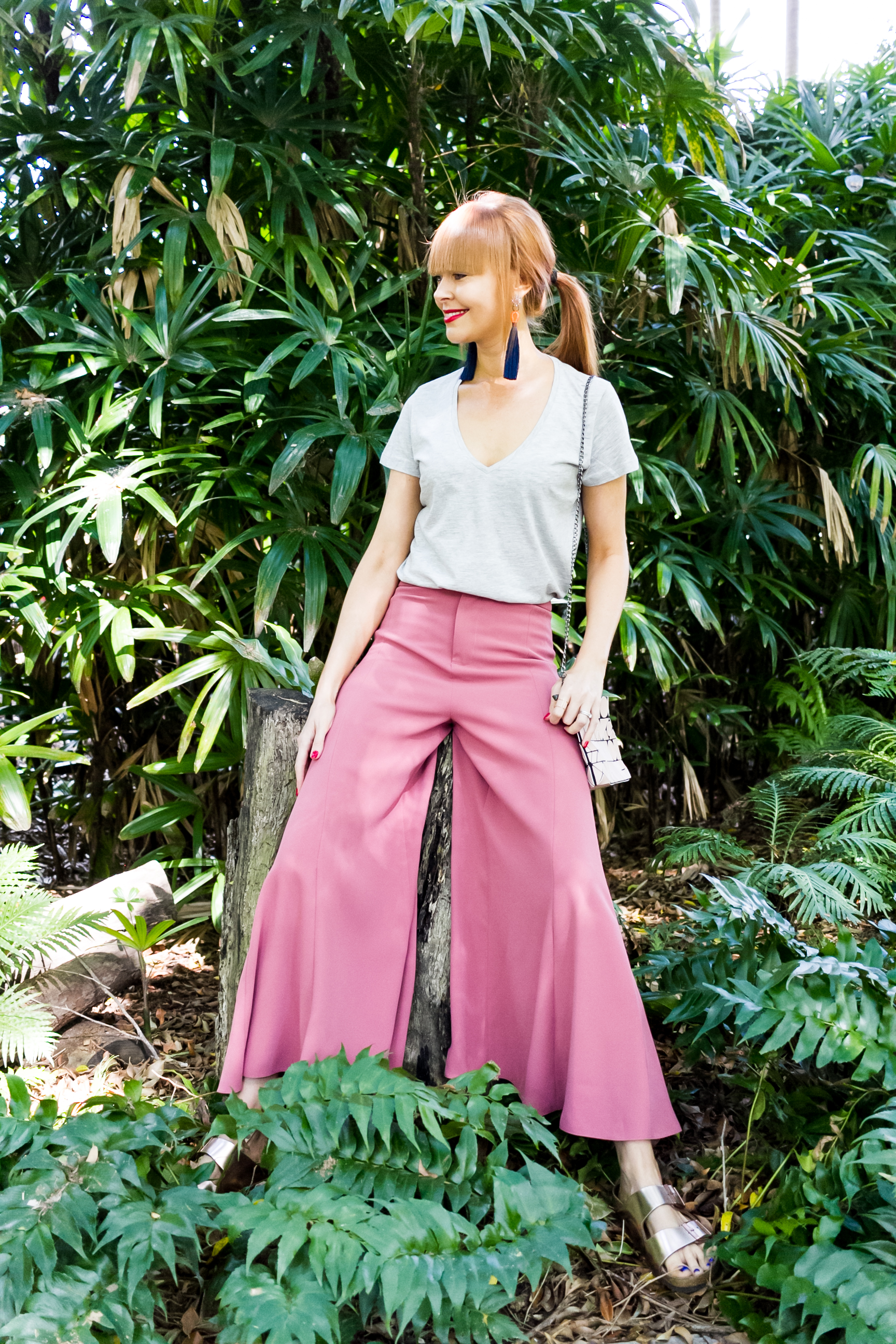 To demonstrate the functionality of this winning outfit, here I am perched on a log—entirely comfortable. 🙂
The dangling tasselled earrings? Well, they're just a bit of fun.
Speaking of fun, I'm off to pack for Melbourne. Until next week, friends!
Antonia xo
PHOTOGRAPHER – Sharleen Christie
OUTFIT & EARRINGS – Zara
SHOES – Birkenstock
SUNGLASSES – Prada
BAG – à la Issey Miyake
GOLD RING – Gag & Lou